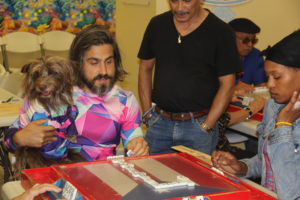 By Carmen Glover
Well-known dog whisperer Topher Brophy, his wife, and their dog, visited the Los Sures David Santiago Senior Center on Friday, Sept. 15, to socialize with the seniors. Wearing a matching shirt as his dog, Brophy was a magnet for the seniors who crowded around him, eager to snap pictures of the dog.
"He gets a bit nervous if it's too noisy or if too many people approach him," Brophy explained, as he made suggestions about the best way for the seniors to interact with the dog.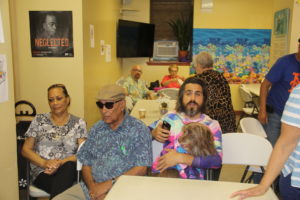 Unbothered, the dog gazed at his adoring fans, while the seniors waved and got as close to him as possible. The seniors had a great time with the dog, who sat still while Brophy played dominoes with the seniors and their family members.
Brophy agreed to stop by the organization's social services building this upcoming Friday, September 22, to participate in the Green Sidewalk free fresh produce giveaway.
If you would like to see Brophy, his wife, and their dog, and also pick up some free fresh produce, come to the Social Services building by 9:00 a.m. on Friday.