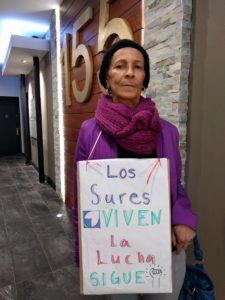 Told to Lucas Renique-Poole
My name is Milagros Jiménez. I've lived at 155 S 4th Street in Williamsburg since 2005. About 8 years ago, the landlord – wanting to get us out – never repaired anything. So, we said, "Let's have a rent strike!" We worked with Los Sures, and after the strike managed to get some repairs. After that he started offering buyouts. Some took them, but many of us didn't.
Still trying to get us out, about a year ago, the landlord had the lobby all redone with new marble tiles, beautiful lights, wood finishes, and large golden numbers that look like they're from a luxury apartment building. All that started after the new white tenants came into the apartments that got bought out.
We, the Hispanic tenants that are left see how everyone says, "Wow! Look, how pretty! Look how they've done up your building!" Well, I say," Oh, yeah?! Come and see, visit us! Ask! Come to our [the Hispanic tenants'] apartments, see how they are! See the rat nests we have here!"
They've hidden the conditions the Latinos live in there. My apartment is all ugly and damaged. My oven doesn't work. There are leaks. It makes us feel bad that everyone thinks that our homes are nice and doesn't see how we really must live
Lucas Renique-Poole is a Tenant Organizer at Southside United HDFC-Los Sures and co-leader of Los Sures Lucha.